Here is the Opening Title I made for the Bump Festival 2017.
Behind the scene
Design festival buddies
Last year I met the Bump festival team at OFFF 2016 in Barcelona where we had a great time drinking beers in the sun between the conferences.
As we were talking about their upcoming festival, I asked them if they had thought about an Opening Title. Since the timing was too short to be able to create one for their event (wich was one month later) I suggested to work together on the next one.
And then we drank some more beers, we took a picture with some other festival buddies enjoyed the rest of the offf festival and went back home.
Then, one month later, I went to Kortrijk, Belgium for the first edition of the Bump festival with some friends and colleagues. The venue and the event was really nice. Great line-up of speakers. Great food, great people, nice weather.
Then we went to the after party on the rooftop and spent more time chatting with some of the speakers, networking with great creative people and eating free pizzas...
Then this happend :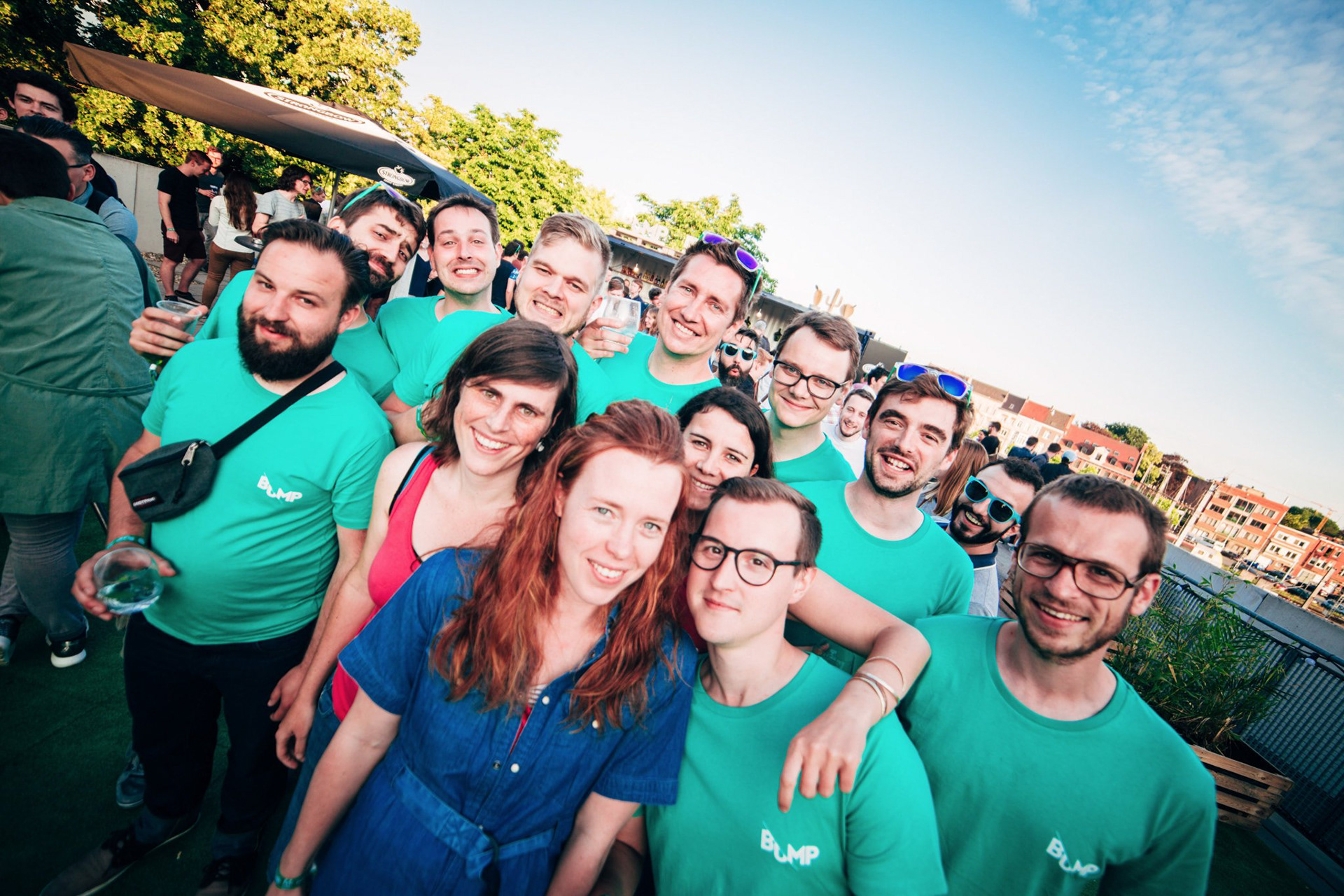 As the team was shooting their official "end of the festival" pic, we took the liberty to sneak behind them and make funny faces...
4 months later was the Kikk festival in Namur, and it was again an opportunity to meet them. There we had fun about the photobombing and talked again about the opening title.
Then 6 months later we met at OFFF 2017 again and slightly talked about it.
At this moment, nothing was confirmed yet... we were just talking about it as a possibility.
Then time flew quickly as my workload went significantly up letting me almost no time to think about some ideas for a new title design...
Then one day, as I was leaving a collaborator after a meeting, something caught my eye.
And I remember hearing in my head "I have to try this" !
One week before...
Fast forward to one week before the Bump Festival.
As I was going trough my phone pictures, I decided to give it a try with some foil paper and my old video projector.
As the results was not really satisfying I contacted my friend
Orlando Campione 
to see if we could make some tryouts with his studio lighting and camera equipment. 
So we did make some tests with different techniques.
We tried to use colored paper to reflect the colours : not bright enough.
We then tried to use it as colored filters : too opaque.
At this point we were starting to be demotivated since we couldn't success to recreate the visual effect I wanted.
Then one of the neighboor of the studio went by to say hi. As we were explaining him what we were trying to do, I joked with him and asked if he may possibly have some really bright colored spotlights to help us.
To my surprise, here was his answer : yes, I have...
And that's how we transfered from shitty colored papers to really bright RGB LED bars !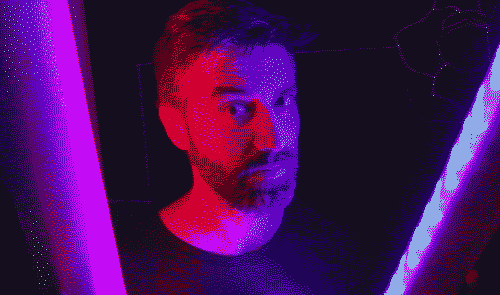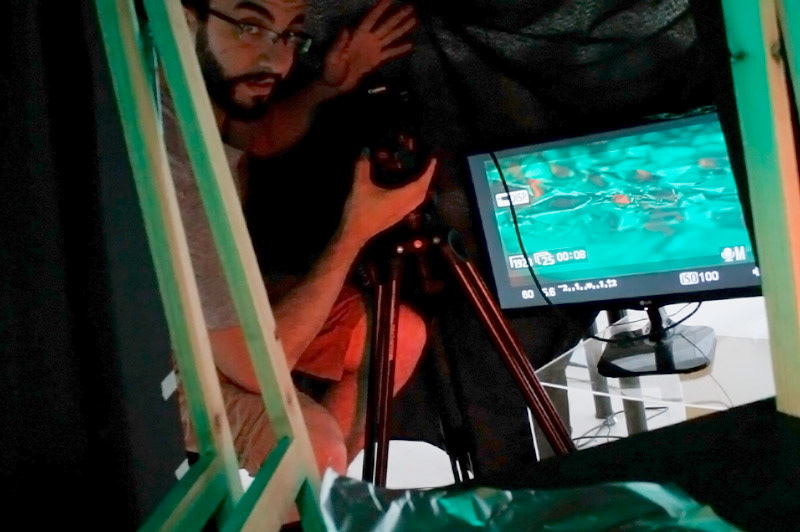 After spending the whole sunday afternoon having fun with this great equipment, I went home with almost 30Gb of video footage. As it was already late, I decided to make only some tests with After Effects and played with 3d tracking and color correction.
The next day, the week started really quickly as I had been requested on a new urgent motion design project. 
Then suddenly it's Thursday night, 7 PM...
At this point the Bump festival is starting in 15 hours.
And it was the moment I decided to send a little text to Wouter, one of the founder of the festival.
I think I did that to challenge myself. Now that I had send this message to Wouter, I had almost no turning back. I had to produce something!
I then started to work on the 3d tracking and type animations around 11PM.
At 3:15 AM : first sound design tests, and video editing adjustments.
I was watching the clock, because I wanted to be able to take the train and be present at the opening of the festival (since I live 90 minutes away from Kortrijk).
But as I was about to finish the project and hit the Render button, my computer started to crash on me... I even lost some of my work and had to rebuilt things... but this time even better!
I was finally able to send my video file via wetransfer.com at 9:17 AM... as the festival had just opened its doors. I was hoping someone from the team would see my message even though they were certainly running everywhere as the first talk was scheduled at 10 AM...
So I jumped into my shower, jumped on the train to Kortrijk which brought me to the venue at 11:30 AM.
While I was on the road, a friend who was already there sent me photos and video clips.
And so I discovered with joy that they had well received the video file and played it!
Wouter had actually made a small intro before the start of the event to explain the whole story!
The only downside was I had not arrived yet.
But I had the opportunity to watch the Title in a real situation just before the last conference of Ash Thorp (one of my design heroes).
Wouter then re-explained the story and this time I had my little moment of glory!
And voilà, what an adventure!
And like every adventure, there's something to be learned.
See you !